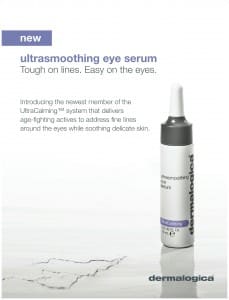 Dermalogica just launched the latest in their UltraCalming series here in Vancouver on Monday. We were lucky enough to have Dr. Claudia Aguire introduce us to the UltraSmoothing Eye Serum.
Dr. Claudia's background as a neuro-scientist has made her a vital asset in the development of the UltraCalming product range, as there is a direct correlation between our mind and body with skin conditions like psoriasis, eczema and dermatitis.
While we may not all be struggling with this level of sensitivity in our skin, it's not uncommon for people to find the skin around their eyes to be less tolerant of the slew of active ingredients and irritants that can be found in cosmetic formulations.
Dermalogica's Ultrasmoothing Eye Serum offers a solution that addresses the signs of aging as well as the puffiness that can come along with allergies in a lightweight power-packed formulation.
Some of the key ingredients include:
magnesium ascorbyl phophate (MAP), which is a stable non-acidic form of vitamin C, a key ingredient for protection from sun damage, oxidative stress and collagen production.
As an alternative to Retin A or Retinol, carrot root extract is used to prevent the irritation that's associated with traditional vitamin A derivatives, while delivering the power of this ingredient to address fine lines, wrinkles, sun damage and firmness.
hexapeptide-11, an amino acid chain derived from yeast cells to firm and tighten the skin, reducing fine lines.
cross-linked hyaluronic acid for 5 times the water binding capacity of regular HA
This is all to compliment the UltraCalming Complex (red hogweed, oat kernel extract, ginger and bisabolol) and golden chamomile which address sensitive skin.
I will definitely be working some if this line into my eye treatment in the Comprehensive Facial. Overall, it's a really nice addition to the UltraCalming family of products. Pop by Beauty Mark if you're interested in trying it out.