It's summertime and the glowing is quick and easy with these expert approved tips!
When July hits, effortless beauty is what we want – that means going light on makeup and heavy on our skincare routine. Sorry, but looking effortless actually requires effort. 😬
1. Exfoliate
Did you know your skin cells stop shedding at their usual rate in your early 20s? Cell renewal continues to slow down as we age which can lead to dullness, enlarged pores and fine lines. For truly glowing skin, it's time to put your scrub aside and amplify your efforts with a chemical exfoliant. Alpha hydroxy acids (AHAs) are known for their brightening and skin regenerating benefits. There are SO many wonderful options available to deliver these ingredients to your skin. I'm personally a fan of daily treatments. (As much as I love a good mask, it can be hard to fit them into a busy routine!) Here are two of my favourite exfoliants that fit easily into your routine for the summer months.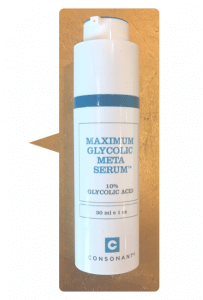 Consonant Maximum Glycolic Meta Serum®
"A 100% natural, made in Canada exfoliating serum featuring a 10% concentration of glycolic acid. Use nightly for one month to boost skin radiance and hydration."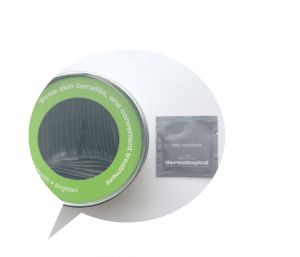 Dermalogica Daily Resurfacer
"This is a secret weapon for glowing skin! You get 35 nightly treatments packaged in a precisely-measured, leave-on dose containing one application of alpha and beta hydroxy acids and enzymes to smooth the skin. Rice Extract brightens while soothing Rooibos (Aspalatous Linearis) and Green teas are combined with Hyaluronic Acid and Eelgrass to help skin retain moisture and reduce the appearance of fine lines."
2. Brighten-up
Nothing that quite matches the brightening power of a vitamin C serum. There are plenty of options on the market, but one thing you MUST look for is encapsulation technology. If the vitamin C in your serum is not encapsulated, it will oxidize – essentially making its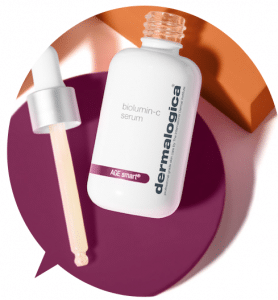 benefits null and void. How do you know if it's oxidized? It will turn a brownish in colour.
Dermalogica boilumin-c serum
"Touted to deliver 3x more vitamin c into the skin than leading competitors, I can honestly say that using this serum every morning has improved the smoothness, evenness and firmness of my skin. Not to mention – did you know that using a vitamin C serum in conjunction with your sunscreen will enhance your sun protection?"
3. Even out
Who doesn't love the look of clean and clear skin? That being said, there are very few of us that can pull that off without a little help from skin perfecting mineral pigments. I'm always a fan of a tinted mineral sunscreen and when I want to minimize pores and fine lines and enhance my glow, I opt for primer.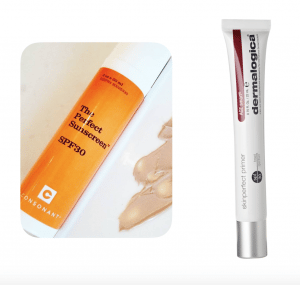 "The Perfect Sunscreen from Consonant is one of my favourites.
Dermalogica's Skin Perfect Primer features natural minerals for neutral tint to balance skin tone, PLUS, a potent peptide helps improve skin firmness."
You can of course opt to try different products – these are merely suggestions – products that I have tried, tested and loved and they're available at Varnish!
If you need more help getting your summer glow, or addressing a particular skin concern, feel free to ask me a question in the comments below, or book in for a consultation.
Yours in skin health,
Kathryn